Rotor Chain Crusher (RCC)
PDF-Download Rotor Chain Crusher
The RCC is a very flexible and universal machine for first treatment, dismantling, delamination and cleaning for many different input materials.
UMS-customer around the world value the exceptional performance in processing E-Waste (WEEE), automotive shredder residuals (ASR), shredder rest fractions, Non-Ferrous compounds, aluminum scraps, production scraps, coolers, many other composites and mixtures containing metals.
The rotating and beating chain tools break down the input materials into their components. These maybe deformed but not destroyed substantially. Consequently the RCC can be even used to release components containing hazardous substances e.g. batteries etc.. The grade of disintegration and the output size is determined by the different physical properties of the input material, the operating time, the quantity of chains in use, the choice of operating mode (continuous, Batch- or Mix-mode) and the position of the continuous adjustable exit door of the RCC.
The flexible chain tools give way when hitting large resistances. This makes the RCC relatively insensitive to impurities in the material like stones, big solid metals pieces etc. and keeps tool costs down. Therefore, the RCC works very energy efficient and avoids excessive heating.
De-dusting of the operating chamber and suction of gases (ATEX) is secured by exhaust connections installed directly at the cylinder and the material exit area.
The heavy construction, derived from UMS's ore processing experience, guarantees a long lifetime and low wear and tear. All tools and the screwed wear plates are easily accessible and replaceable.
A machine with 2,000 mm diameter can process materials with maximum size up to 600 x 600 x 600 mm edge length (respectively one side extended to 800 mm and possibly longer, other sides shorter) and single unit weight of more than 100 kg.
If you request an offer or want to purchase a Rotor Chain Crusher (RCC) directly, please fill out the form under Contact.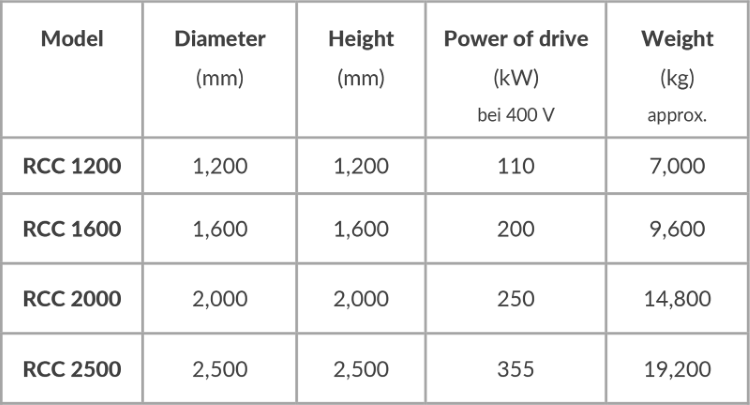 The throughput depends on the purpose and setting of the RCC. We offer the RCC as single machine with drive and base frame and without or with the necessary control system or as a complete system.